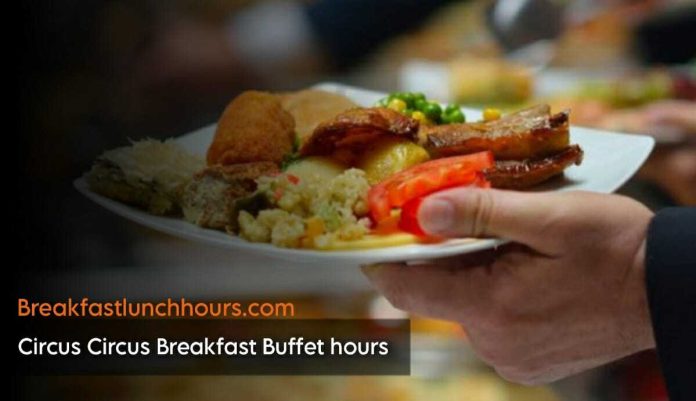 The Circus Circus Buffet serves good food at reasonable prices in a classic-style setting. Aside from being the best kid-friendly buffet in town, it also boasts plenty of menu items that will please adults and children alike. In addition to its famous brunch buffet, it also offers a dinner buffet. 
With a huge selection of cuisine that the whole family will enjoy, there are plenty of tables for dining, and very affordable prices, this is the best self-serve buffet on the Las Vegas Strip.
Circus Circus Buffet is the best spot for fine eats in Vegas at budget-friendly prices if you are looking for a family-friendly favorite. Keep reading to know the Circus Circus Breakfast Buffet Hours, Menu and Price in 2023.
Circus Circus Breakfast Buffet Hours
Circus Circus Buffet returns with breakfast and brunch and is a good choice if you are looking for an affordable self-serve buffet with kid-friendly cuisine and an abundance of seating. The breakfast and brunch menu is open on Fridays, Saturdays, and Sundays between 7 AM and 2 PM, and the dinner menu is available on Fridays, Saturdays, and Sundays between 4:30 PM and 10 PM.
During the past few months, the Buffet's hours and dates of operation have fluctuated quite a bit. Though I'll certainly keep this post updated, it would be good to contact them before making the trip to make sure they are open or not.
| | |
| --- | --- |
| Circus Circus Breakfast Meal |   Circus Circus Breakfast Buffet Hours |
| Brunch | Friday – Sunday: 7 AM to 2 PM |
| Dinner | Friday – Sunday: 4:30 PM to 10 PM |
At what times does Circus Circus Breakfast offer breakfast?
The Circus Buffet is just one of the many food options offered by Circus Circus.
The Circus Circus buffet ensures you can feed your entire family without breaking the bank, whether you want a simple breakfast with coffee and fresh fruit or a full meal before hitting the casino. There is no better Las Vegas buffet than the Circus Circus Buffet, which starts serving breakfast at 7 AM.
Note – You will be thrilled to know Applebee's lunch menu and what are all they have stored for you at such an affordable price.
Circus Circus Breakfast Buffet Menu:
The brunch buffet starts at 7 AM and ends at 2 PM with breakfast foods. So be there at these times. Brunch begins with a selection of delicious breakfast items that you would expect to find at any good breakfast buffet. A few of these dishes include:
Circus Circus breakfast and buffet menu
Fresh fruit
Yogurt
Breakfast sausage
Hot and cold cereal
Bacon and sausage
Eggs (fried and scrambled)
Donuts
Pastries
Cinnamon rolls
Waffles
Pancakes
Bagels with cream cheese and a selection of jellies
Biscuits and gravy
French toast
Fried potatoes
Circus Circus dinner buffet
During dinner, you can expect many of the same dishes you found at the brunch buffet, but with a few additional and tasty items.
Full salad bar (Dinner includes a Caesars salad option)
A limited selection of seafoods
Wide range of pasta dishes
Potatoes (baked and mashed along with gravy)
Meat carving station
Fried chicken
Baked fish
Mexican dishes (tacos, guacamole, chips and salsa, burritos, etc.)
Asian section including egg rolls, egg noodles, sweet and sour chicken, and wok-fried dishes
Moreover, both buffets feature plenty of kid-friendly items, such as
Kids' cereals
Chicken nuggets
Tater tots
Note – Does Sonic serve breakfast all day? Check out the article to know more!
Circus Circus Buffet Desserts
What really sets the show apart is their wide selection of desserts. You can always expect to find the following desserts as part of the brunch and dinner menus:
Chocolate and vanilla ice cream (soft serve)
Cakes
Jello
Puddings
Brownies
Pies
and other sweet treats
Does the Circus Buffet include drinks?
At the Circus Buffet, drinks are included as part of the buffet service, unlike regular buffets across the country where you must pay separately. Here are some of the drinks:
A coffee and cappuccino machine
Hot tea
A limited range of fruit juices
Assorted soft drinks (root beer, dr. pepper, Pepsi, club soda, etc.)
Milk
Chocolate milk
Chilled water
Unsweetened iced tea
You can order alcohol from the servers, but it is not free. It should be noted that the Circus Buffet does not offer a champagne brunch, unlike many Las Vegas weekend buffets.
Circus Circus Buffet Prices:
It's the price that makes the Circus Buffet stand out from the other outlets. There are different pricing options for adults and children depending on what time of day it is and what day of the week it is. You can find an overview here, but we've also included easy-to-read tables below for your convenience.
Circus Buffet adult prices:
Remember that, there is an 8.38% sales tax on the Las Vegas Strip, so this pricing is before the tax. In addition, prices increase during holidays as a result of increased demand.
Circus Buffet child prices:
Due to the fact that Circus Circus Hotel and Resort is one of the few family-friendly properties on the Las Vegas Strip, there are usually a number of kids staying there. There is a specific kid's buffet price at the Circus Buffet that matches their smaller appetites.
There is a $7 discount for children ages 4 to 10 on brunch and dinner during the week, compared to the adult price. During the weekend, the kids' prices only go up a dollar. Adults are subject to the same rules about the day of the week. All children over the age of 11 pay adult prices.
There is a free buffet for kids three and under at the Circus Buffet, making it a great attraction for families.
Meal
Price
Timings
Brunch
Adults: $30.99
Kids 4-10: $15.50
Friday – Sunday: 7 AM to 2 PM
Dinner
Adults: $32.99
Kids 4-10: $16.50
Friday – Sunday: 4:30 PM to 10 PM
What is the best time to visit the Circus Circus Buffet?
It is undeniable that the Circus Circus buffet is extremely popular due to its reasonable prices and convenient location. It is important to keep in mind that timing is crucial when it comes to almost any attraction or restaurant in Las Vegas.
If you want to avoid the crowds at Circus Circus' breakfast and brunch buffet, you need to get there earlier. You may also be able to get through the payment line more quickly if you eat slightly later in the day.
Even though the brunch buffet is not too crowded right when it opens at 7 AM, I find that the best time to eat brunch is between the busy breakfast and lunch periods. It is best to arrive around 10:30 am so you can get in before the lunch crowd arrives and be in a position to enjoy the additional lunchtime selections.
If you plan to eat at the dinner buffet, you might want to eat a bit later than usual. Generally, dinner crowds start to slow down after 8 PM, so you can avoid long lines after that.
There is generally less crowding on weekdays than on weekends and holidays, but Vegas can be crowded at any time, especially during busy times.
However, don't let timing or crowds overwhelm you. There is no wait time for the Circus Buffet; you can eat whenever it is open, regardless of the size of the crowd.
But the benefits of avoiding the busiest times include spending less time waiting in line and being able to enjoy your vacation more.
Note – Red Lobster offers a variety of classic seafood dishes for lunch. The menu includes filet mignon, sirloin, garlic shrimp skewers, and many more. 
Circus Circus Buffet coupons 2023:
You can get the best deal at the Circus Circus Buffet by booking the Breakfast offer with the Circus Circus Buffet by making your reservation through the hotel directly. You can also sign up for their Email to get exclusive VIP member coupons and deals.
How to make Circus Circus Buffet reservations?
Dinner and brunch are served at the Circus Buffet, but there is a separate schedule for each. There will be a brief closing of the buffet between courses so that the new menu can be set up. But for the reservations you can use their website. However, in my opinion there are plenty of seatings so the prior reservation may not be required.
Circus Circus Las Vegas Overview
Circus Circus Las Vegas is a hotel and casino located in Winchester, Nevada, on the northern end of the Las Vegas Strip. It is operated and owned by Phil Ruffin. The Circus Circus is home to the world's largest permanent circus. Circus acts and trapeze acts are included in the Carnival Midway, which also features carnival games. Additionally, the resort has an indoor amusement park called Adventuredome.
Since its opening, Circus Circus Buffet has been expanding and improving, adding new dishes and updating its décor. In spite of the COVID-19 pandemic, Circus Circus Buffet continues to serve its customers with takeout and delivery options so everyone can enjoy the cuisine they love.
A buffet is available at the Circus Circus Hotel and Casino. This restaurant has a stunning location and delicious food, but it does not have an excellent reputation. Despite its popularity, it won't appear on any lists of 'best buffets in Las Vegas'.
However, as a result of a poor image, the company's management took action finally.
With all the improvements, you could enjoy a pleasant all-you-can-eat meal there without any problems. Even though they are still working on improving a standard buffet, they are making great progress. To learn more about Circus Circus Buffet, visit their website at https://www.circuscircus.com/
FAQs about Circus Circus Breakfast Buffet hours:
Q1 – What makes Circus Circus buffet different?
Ans – Circus Circus Buffet offers a wide variety of dishes, which is one of its unique features. A variety of cuisines are offered in the restaurant, including American, Italian, and Asian options. A variety of flavors and dishes can be sampled at one time, so customers can discover new tastes and dishes. In addition, the restaurant provides an all-you-can-eat buffet, giving customers a chance to experience multiple dishes without spending a fortune.
Q2 – Does Circus Circus have free breakfast?
Ans – No, at Circus Circus, a buffet breakfast is available daily from 7:00 am to 1:00 pm for a fee.
Q3 – What is the price of the Circus Circus buffet?
Ans – Before tax, the Circus Circus buffet charges between $22.99 and $27.99 per adult, depending on the day and time of the day.
Wrapping up!
There you go! Now that you have all the information you need about Circus Circus Breakfast Buffet hours, menu and price you are ready to make your visit.
Circus Circus buffet will feed the whole family without breaking the bank, whether you are craving an early breakfast, some fresh fruit, or a satisfying meal before hitting the casino. The best part of the buffet is that reservations are accepted and the food is served first come, first served.
Overall, guests will find that Circus Circus' breakfast buffet is a great alternative to some of the more expensive options found on the Strip, and the Circus buffet opens during the times when most guests will wish to eat. Share your experience in the comment section below.